"Stunning," "wow," "shocker," "bombshell," "astronomical," "insane,""unprecedented"– these are some of the words climate scientists have used to describe the record-shattering global surface temperatures in February 2016.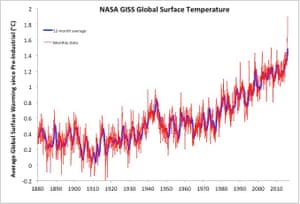 It's difficult to see any 'pause' or slowdown in the global warming over the past 50 years.
To put the current temperatures into context, prior to last October, monthly global surface temperatures had not been more than 0.96°C hotter than the 1951–1980 average, according to Nasa. The past 5 months have been 1.06°C, 1.03°C, 1.10°C, 1.14°C, and 1.35°C hotter than that average, absolutely destroying previous records. Estimates from Noaa are in broad agreement with those from Nasa.
Right now, the Earth's average surface temperature is hotter than it's been in thousands of years; potentially even longer.