Aside Posted on
Ian Sample Science editor Thursday 12 November 2015 19.00 GMT
Huge Zachariae Isstrom glacier has begun to break up, starting a rapid retreat that could continue to raise sea levels for decades to come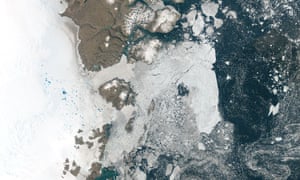 A major glacier in Greenland that holds enough water to raise global sea levels by half a metre has begun to crumble into the North Atlantic Ocean, scientists say.
The huge Zachariae Isstrom glacier in northeast Greenland started to melt rapidly in 2012 and is now breaking up into large icebergs where the glacier meets the sea, monitoring has revealed.
The calving of the glacier into chunks of floating ice will set in train a rise in sea levels that will continue for decades to come, the US team warns.
"Even if we have some really cool years ahead, we think the glacier is now unstable," said Jeremie Mouginot at the University of California, Irvine. "Now this has started, it will continue until it retreats to a ridge about 30km back which could stabilise it and perhaps slow that retreat down."
Mouginot and his colleagues drew on 40 years of satellite data and aerial surveys to show that the enormous Zachariae Isstrom glacier began to recede three times faster from 2012, with its retreat speeding up by 125 metres per year every year until the most recent measurements in 2015.