Aside Posted on
Ever wondered how the prime minister sleeps at night? Now we have the answer: blissful ignorance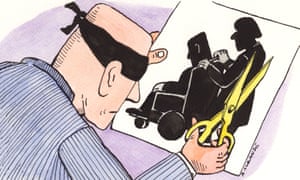 Illustration: Andrzej Krauze
It's like the crucial moment in Graham Greene's novel The Quiet American. The US agent stares at the blood on his shoes, unable to make the connection between the explosion he commissioned and the bodies scattered across the public square in Saigon. In leaked correspondence with the Conservative leader of Oxfordshire county council (which covers his own constituency), David Cameronexpresses his horror at the cuts being made to local services. This is the point at which you realise that he has no conception of what he has done.
The letters were sent in September, but came to light only on Friday, when they were revealed by the Oxford Mail. The national media has been remarkably slow to pick the story up, given the insight it offers into the prime minister's detachment from the consequences of his actions.
Cameron complains that he is "disappointed" by the council's proposals "to make significant cuts to frontline services – from elderly day centres, to libraries, to museums. This is in addition to the unwelcome and counter-productive proposals to close children's centres across the county." Why, he asks, has Oxfordshire not focused instead on "making back-office savings"? Why hasn't it sold off its surplus property? After all, there has been only "a slight fall in government grants in cash terms". Couldn't the county "generate savings in a more creative manner"?