Aside Posted on
A predicted global meltdown passed without event. But there are enough warning signs to suggest we are sleepwalking into another disaster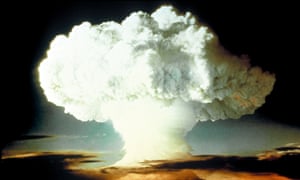 The 1st of October came and went without financial armageddon. Veteran forecaster Martin Armstrong, who accurately predicted the 1987 crash, used the same model to suggest that 1 October would be a major turning point for global markets. Some investors even put bets on it. But the passing of the predicted global crash is only good news to a point. Many indicators in global finance are pointing downwards – and some even think the crash has begun.
Let's assemble the evidence. First, the unsustainable debt. Since 2007, the pile of debt in the world has grown by $57tn (£37tn). That's a compound annual growth rate of 5.3%, significantly beating GDP. Debts have doubled in the so-called emerging markets, while rising by just over a third in the developed world.
John Maynard Keynes once wrote that money is a "link to the future" – meaning that what we do with money is a signal of what we think is going to happen in the future. What we've done with credit since the global crisis of 2008 is expand it faster than the economy – which can only be done rationally if we think the future is going to be much richer than the present.